Our Product
The FootballAnalysis program is your tool to gain insight into your opponent's tendencies.  When you know your opponent's tendencies you can put your players in position to make the play.  I am sorry but FootballAnalysis cannot block or tackle.  We are not football coaches but Assistant Software Coach's only business is to develop a software product that generates the information you want in the format you want.
If you are a Hudl (a product and a service of Agile Sports, Inc.) user, you can export your data from Hudl and import it into FootballAnalysis. We provide additional reports that will give you more insight of your opponent's tendencies.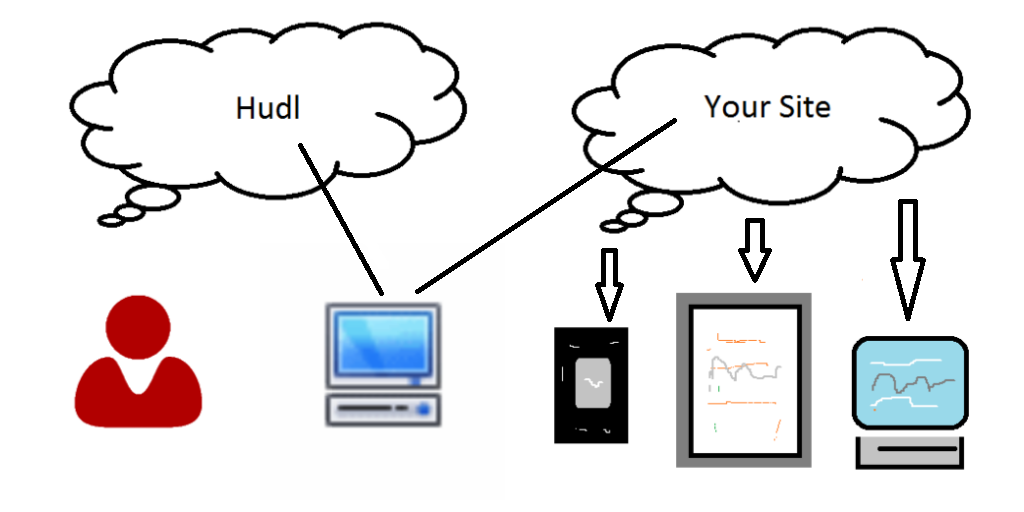 The process of acquiring and using Hudl data files is depicted in the image.  The first step is to export a CSV file for each game you added to Hudl for this week's opponent. Name each file for the team that played your opponent. The second step is to import each game into FootballAnalysis using the "Load Game Data From File" menu item. (The first time you load game data you must map the FootballAnalysis field name to the corresponding Hudl field name.) Save the game data using the file name for the game field. The next step is to build the Game Data Set.  This a list of game data that will populate the reports. The final step is to build the report files using the "Generate All Reports" menu item.
Viewing Reports
The easiest way for everyone to view the reports is to put them on a web site.  The FootballAnalysis program can write the reports to your web site or can write them to the Assistant Software Coach web site.  There is no charge for using assistantsoftwarecoach.com.  You will need to get a code from us to allow you to write and view your reports on .assistantsoftwarecoach.com.    Please contact us by phone 217-390-1734 or email This email address is being protected from spambots. You need JavaScript enabled to view it. to get the code.
If you wish to use your web site we will gladly support you adding the required directories and generating the links to your reports.  Please contact us by phone 217-390-1734 or email This email address is being protected from spambots. You need JavaScript enabled to view it. to let us help you add the reports to your web site.
 Free Demo
We want you to try our program for free using a demo version authorization code that provides complete functionality, but will overlay "DEMO" on the reports.  Click on "Down Load" to down load the program installation package.  Just select your download directory and double click on the "FootballAnalysisSetup.exe" to install on any Windows 7, 8, or 10 based PC.  The "FootballAnalysis" program supports all sides of the ball at three levels based on the authorization code.  Initially, we are only demoing the standard version for both Offense Opponent (analyze your opponent's defense) and Defense Opponent (analyze your opponent's offense).  For Offense Opponent the authorization code is "DemoOS" and for Defense Opponent it is "DemoDS".  Please contact us by phone 217-390-1734 or email This email address is being protected from spambots. You need JavaScript enabled to view it. to let us help you get started with FootballAnalysis.
Better Reports
FootballAnalysis has advanced report generation by creating each report as a web page.  You can view samples by clicking Offense Opponent Sample Reports or Defense Opponent Sample Reports.  Now each coach can access reports from anywhere using his smart phone, tablet, or computer.  You may have even more players willing to review a report because they are very accustomed to viewing everything online.  Web pages are much more flexible than a 8.5 by 11 inch sheet of paper which allows us to create whatever you need.
Help Us Improve
We are seeking report formats to include in our package, so if you have a favorite report or two, please email a pdf file or jpg image to This email address is being protected from spambots. You need JavaScript enabled to view it.. We will add it to the appropriate set.
Licensing
FootballAnalysis is licensed per side of ball: Offense Opponent, Offense Self, Defense Opponent, Defense Self, Special Teams Opponent, and Special Teams Self.  It is also split into three versions: Standard, Advanced, and Professional. We believe that most coaches will use the Standard Version at $40 per side of ball. You only license the side of ball that you require.